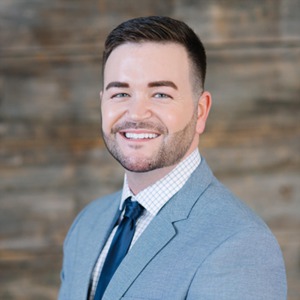 ABOUT GREG
Greg is a native of Maine and grew up on the East End of Portland near the Portland Observatory. He currently lives with his partner in the historic district of Factory Island in Saco, Maine. In his free time, he enjoys visiting Maine's beautiful beaches, trails, and walks with his rescue dog, Roscoe. He is a graduate of the University of Southern Maine, where he earned a BA in Psychology and a minor in Deaf Studies. 
After graduating from USM, Greg worked as a Case Manager in the behavioral health field working with adults and children with intellectual disabilities. Greg built lasting relationships with his clients by exercising strong communication skills, staying organized, and being an effective listener. He was able to help his clients achieve their goals by focusing on their strengths and setting expectations for their course of action ahead. Greg's calming demeanor and strategic approach to problem solving the most difficult of situations, put his clients' mind at ease knowing they were in good hands. 
After working in the behavioral health field for over ten years, fostering relationships, and exercising his lifelong passion for helping people, he then decided to extend that helping hand into the real estate business. Greg's next career move brought him one step closer to realizing his lifelong dream of working in real estate. In 2014, Greg accepted a role as a Sales & Marketing Specialist at a retirement community in Scarborough, Maine. In this position, his interest in real estate really peaked. He found his passion for working with individuals as they navigated through life stages, such as down sizing their private homes and then buying into a retirement community. Greg gained his clients' trust by expressing a genuine interest in helping others, which allowed him to effectively advise his clients through their next steps towards feeling secure and confident with their buying decision.  
Greg strongly believes in giving back to his community and enjoys volunteering his time at Deaf Community events and being an active volunteer at Hospice of Southern Maine. 
As your sales agent, you can count on Greg from start to finish and everywhere in between. Like his previous work with his clients in the behavioral health field and his work with retirees, you will have his complete undivided attention, care, and respect. He understands that buying or selling a home is a journey and will be dedicated in helping you every step of the way. 
Testimonials
You will not find harder working people than The Libby Starnes Team to sale your home. No one works harder, be more helpful, or truly committed than Pam and Tiffany. The communications, knowledge and persistence of this team is TOP NOTCH. They were right by our side every step of the way, and we could not recommend anyone more than them! Thank you so much!
Misty Thompson and Darrell Dumont, Windham, left feedback 0 months ago
Tiffany was amazing to work with. It felt like working with family! She always explained the details of the process in a clear and concise way. Tiffany continuously kept me updated on any news and information. She was polite, kind and considerate of our needs. I would highly recommend Tiffany to others!
Sarah Allen Raymond Maine, left feedback 1 months ago
Pam Stearns was absolutely amazing! She goes above and beyond any expectations we had as a realtor. She returns calls,text and e-mails promptly. She takes time to explain every detail and makes sure her clients understand it all. She is very professional in her demeanor and attire and yet we always felt very comfortable with her down to earth personality. My husband and I feel as though we have another daughter now. We may have some other properties to sell and you can be sure Pam will be our realtor. We will definitely recommend her to anyone we know that needs a realtor. She is hard working ,high energy and up to date on current issues regarding real estate. Pam is definitely an asset to Signature Homes Pam was more than we could hope for in a realtor . She always took as much time as we needed to answer any questions. Her personality is one that is very professional yet down to earth Pam priced our house right and we were able to get more than we anticipated Truthfully,I don't know of anyone that works as hard as she does for her clients Pam priced our house right and we were able to get more than we anticipated Truthfully,I don't know of anyone that works as hard as she does for her clients
Susan Hall Windham,Maine, left feedback 1 months ago
More Testimonials